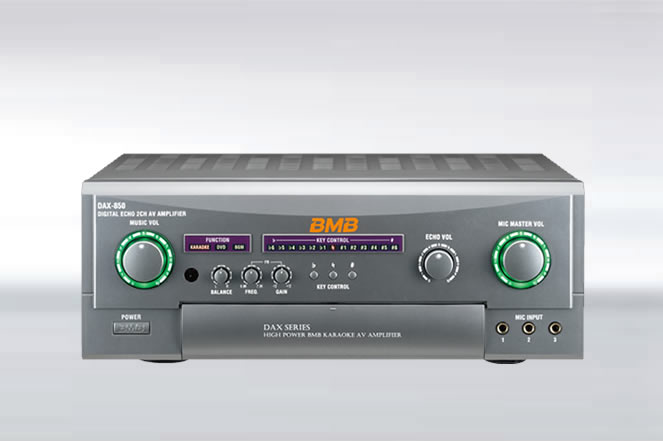 DAX Series
Basic Stereo Echo Mixer Karaoke Amplifier
This model is available in two models - 4ch and 2ch. You can select the model based upon the size of a room or the audio system architecture.
These amplifiers make sound quality softer and deeper and more natural. This is one of the great characteristic of analog amplifier.
Stereo Echo Mixer is used to get a deep echo sound that swings not only left/right but also front/back.
DAX-1000II (SE)
Discontinued
DAX-1000II (SE)
Max Output Power
200W×4CH
(8Ω, EIAJ)
Main pitch degree
13degrees
±3.0DSP
Audio Input
3systems
(KARAOKE, DVD, BGM)
Video Input
3systems
(KARAOKE, DVD, BGV)
Mic Input
5systems:
front3,rear2
Echo change
ECHO STEREO ON/OFF
(STEREO/MONO)
Feedback reduce
manual operation
Dimensions
(mm)
420(W)×159(H)×415(D)
Weight
18.75kg
DAX-850II (SE)
Discontinued
DAX-850II (SE)
Max Output Power
200W×2CH (8Ω, EIAJ)
Main pitch degree
13degrees
±3.0DSP
Audio Input
3systems
(KARAOKE, DVD, BGM)
Video Input
3systems
(KARAOKE, DVD, BGV)
Mic Input
5systems:
front3,rear2
Echo change
ECHO STEREO ON/OFF
(STEREO/MONO)
Feedback reduce
manual operation
Dimensions
(mm)
420(W)×159(H)×415(D)
Weight
12.95kg